US Human Rights Report Paints Grim Picture
Key issues raised in the annual report on human rights for 2017 pointed to the exploitation of children and teenagers.
The United States Department of State on Friday issued its annual country reports on human rights in the world and warned of the increase in attacks on civilians in Afghanistan.
According to the report, Country Reports on Human Rights Practices for 2017 - Afghanistan, anti-government armed groups used children and teenagers as soldiers, suicide attackers and weapons carriers and in some government forces also recruited teenagers.
"Child Soldiers: There were reports the ANDSF (Afghan National Defense and Security Forces), particularly the ANP (Afghan National Police) and ALP (Afghan Local Police), and pro-government militias recruited children. The AIHRC (Afghanistan Independent Human Rights Commission) reported that government security forces in Kandahar province used child recruits. UNAMA documented the recruitment and use of 14 boys by security forces from January to June. The government continued to work towards the expansion of Child Protection Units to all 34 provinces. As of August there were 21 active units, the report read.
The report stated however that under a government action plan, the ANP took steps that included training staff on age-assessment procedures, launching an awareness campaign on underage recruitment, investigating alleged cases of underage recruitment, and establishing centers in some provincial recruitment centers to document cases of attempted child enlistment.
"Recruits underwent an identity check, including an affidavit from at least two community elders that the recruit was at least 18 years old and eligible to join the ANDSF. The Ministries of Interior and Defense also issued directives meant to prevent the recruitment and sexual abuse of children by the ANDSF. Media reported in some cases ANDSF units used children as personal servants, support staff, or for sexual purposes."
Killings, torture, sexual abuse
The report stated that government forces have also been charged with extrajudicial killings, torture, arbitrary detention and sexual abuse of children and adolescents.
It stated the most significant human rights issues included extrajudicial killings by security forces; disappearances, torture; arbitrary arrest; detention, including of women accused of so-called moral crimes; and sexual abuse of children by security force members.
Additional problems included violence against journalists, criminalization of defamation; pervasive government corruption; and lack of accountability and investigation in cases of violence against women.
Discrimination against persons with disabilities and ethnic minorities and discrimination based on race, religion, gender, and sexual orientation persisted with little accountability, the report read.
Widespread disregard for the rule of law and official impunity for those who committed human rights abuses were serious problems and the government did not consistently or effectively prosecute abuses by officials, including security forces, the report added.
"There were major attacks on civilians by armed insurgent groups and targeted assassinations by armed insurgent groups of persons affiliated with the government.
"The Taliban and other insurgents continued to kill security force personnel and civilians using indiscriminate tactics such as improvised explosive devices (IEDs), suicide attacks, and rocket attacks, and to commit disappearances and torture.
"The UN Assistance Mission in Afghanistan (UNAMA) attributed 67 percent of civilian casualties (1,141 deaths and 3,574 injured) to nonstate actors. The Taliban used children as suicide bombers, soldiers, and weapons carriers. Other antigovernment elements threatened, robbed, kidnapped, and attacked government workers, foreigners, medical and nongovernmental organization (NGO) workers, and other civilians," the report read.
In reaction to the report on overcrowded and unsanitary prisons, the ministry of interior's spokesman, Najib Danish said: "We are committed to implementing all laws on human rights in Afghanistan prisons. We urge the national and international institutions to come and see our prisons to make sure that human rights have been respected here,".
Afghan Integrity Watch meanwhile said the National Unity Government (NUG) so far has not made any big achievement in fighting corruption and bringing reforms.
"After three and a half years of the NUG, still government has not met the expectations that the civil societies had in terms of bringing reforms and eradicating corruption," Integrity Watch Afghanistan researcher Nasir Timori said.
Another major area of concern, meanwhile was that of child labor.
"Child labor remained a pervasive problem. The Ministry of Labor declined to estimate the number of working children, citing a lack of data and deficiencies in birth registrations.
"Child laborers worked as domestic servants, street vendors, peddlers, and shopkeepers. There was child labor in the carpet industry, brick kilns, coalmines, and poppy fields. Children were also heavily engaged in the worst forms of child labor in mining (especially family-owned gem mines), commercial sexual exploitation, transnational drug smuggling, and organized begging rings.
"Some forms of child labor exposed children to land mines. Children faced numerous health and safety risks at work, and there were reports of sexual abuse of children by adult workers. There were reports of recruitment of juveniles by the ANDSF during the year. Taliban forces pressed children to take part in hostile acts," read the report.
Europe, are you reading this? This is, unfortunately, all too typical of Muslim countries where there is weak leadership - Afghanistan, Pakistan, Bangladesh, Jammu & Kashmir, Nigeria, Somalia, Albania, etc., etc.
The only Muslim countries where there is some sort of order are those autocratic countries like Saudi Arabia, Iran, Turkey, other Gulf States, etc.
Which of these directions do you want your future to run?
India seeks death penalty for child rapists
By Sugam Pokharel and Laura Smith-Spark, CNN
India's Cabinet has passed an executive order to make the rape of a girl under 12 punishable by the death penalty as national outrage grows over sexual violence in the country.
Women join a protest this week in New Delhi in support of victims following high-profile rape cases.
The order -- known as an ordinance -- was approved Saturday at a Cabinet meeting chaired by Prime Minister Narendra Modi, according to India's Ministry of Women and Child Development.
The change in the law will only become permanent once it is approved by India's Parliament, which is currently in recess. It goes into effect once it's signed by the President, considered a formality, but it will lapse after six months if Parliament doesn't ratify it.
The executive order also increased the minimum punishment for female rape from seven years in prison to 10 years, extendable up to life imprisonment, and introduced measures to speed up court proceedings in rape cases. Forensic rape kits will be provided to police stations and hospitals, and specialist labs will be set up exclusively to handle rape cases, the ministry said.
Modi has come under increasing pressure to act following a string of particularly brutal rape cases that have shocked the nation. Less than three months ago, his government argued against a call in the Supreme Court to introduce the death penalty for child rape.
Large protests were held last weekend in response to the alleged gang rape and killing of an 8-year-old Muslim girl in Jammu and Kashmir state. Police have arrested eight suspects in connection with her death, all of whom are Hindu. Investigators allege the men plotted the girl's abduction as a means of scaring predominately Muslim nomads into leaving the region.
As public outrage grew,
two senior members of Modi's party who had participated in the protests in support of the accused were forced to resign amid accusations of political interference and religious discrimination.
That case, along with
rape accusations against a ruling party lawmaker in the state of Uttar Pradesh, has put pressure on Modi's ruling Hindu nationalist Bharatiya Janata Party, or BJP. The lawmaker, Kuldeep Singh Sengar, denies the allegations that involve a teenage girl.
The head of the Delhi Commission for Women, Swati Maliwal, began a hunger strike on April 13 to push for stricter laws for rape in India, including the death penalty.
She welcomed news of the new ordinance via Twitter but said her protest was not over.
"I congratulate people of this country for this victory," she said. "Very few protests have achieved so much in such less time. But until something concrete happens, I will not give up. Until a system is there which ensures safety for the last girl, I won't give up."
Following outcry over the 2012 gang rape and death of 23-year-old physiotherapy student Jyoti Singh, the central government passed legislative reforms, commonly known as the Nirbhaya Act. The act saw increased penalties for sexual violence, including extending the length of prison sentences and introducing the death penalty in certain cases.
However, incidents of sexual violence continue to shock the country. Around 100 sexual assaults are reported to police in India every day, according to the National Crime Records Bureau. There were nearly 39,000 alleged attacks in 2016, an increase of 12% over the previous year.
Public outrage has threatened to engulf Modi, who will seek re-election next year, as the demonstrations transform into a conduit for growing anger over the country's treatment of women and minority groups.
Despite reforms, sexual assault survivors face systemic barriers in India
After several days in which he failed to address the issue publicly, Modi finally broke his silence during an April 13 speech in Delhi, promising justice for "our daughters." However, critics accused him of doing too little, too late.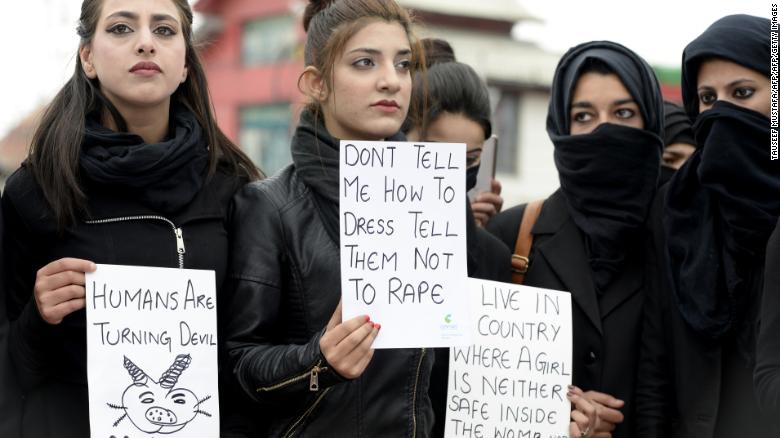 Law students demonstrate Wednesday in Srinagar over the rape and killing of an 8-year-old girl.
The furor also threatened to overshadow Modi's visit this week to Britain. Hundreds of protesters gathered outside Downing Street and the UK Parliament waving placards reading "go home Modi" and "hang the rapists" as he prepared to meet with UK Prime Minister Theresa May.
Addressing selected members of the Indian diaspora in London, Modi called on society to do more while urging against politicizing the issue.
"A rape is a rape. How can we tolerate this torture with our daughters? You are always questioning your daughters, why don't you ask the same questions to your sons? I believe this is the evil of not just the individual but also of the society,"
he said.
India To Join 8 Countries Having Sex Offenders Database
Many organisations such as the Human Right Watch and ACLU have spoken out against the sex offenders registry, claiming that it negates the concept of rehabilitation and perpetuates social stigma.
All India | Press Trust of India
NEW DELHI:
India will join a club of eight countries with a sexual offender database to monitor and track those convicted of such crimes, amidst growing criticism against it in the US, where it is pursued aggressively.
The Cabinet today approved promulgation of the Criminal Law (Amendment) Ordinance, 2018 to award death sentence to child rapists and said that the National Crime Records Bureau will maintain a national database and profile of sexual offenders.
This data will be regularly shared with states and Union Territories for tracking, monitoring and investigation, including verification of antecedents by police.
Many organisations such as the
Human Rights Watch and ACLU have spoken out against the sex offenders registry, claiming that it negates the concept of rehabilitation and perpetuates social stigma.
"Government statistics (in the US) indicate that most sexual abuse of children is committed by family members or trusted authority figures, and by someone who has not previously been convicted of a sex offence.
"In India, too, children are often sexually abused by people known to them and regarded as authority figures. The government must ensure implementation of existing measures...including enforcement of the POCSO Act,"
Jayshree Bajoria, author of Human Rights Watch report documenting barriers to justice for sexual assault survivors in India, told PTI.
While
the registry in the US is public, in other countries like Australia, Canada, Ireland, New Zealand, South Africa,Trinidad and Tobago and United Kingdom, where such data of convicted sex offenders is maintained, it is purely for the consumption of the law enforcement authorities.
It is not clear if the Indian database will be made public or not.
"Once such a registry comes into being, I am concerned that it might lead to people not reporting rapes or sexual offences, because most of them are by people known to the victims. Also, once you are on the registry, it will mean no jobs, no chance to rehabilitate. Across the world such registries have failed to act as a deterrent,"
said Bharti Ali of HAQ Centre for Child Rights.
An HRW report in fact states that such
offender lists "may do more harm than good".
Activists in India say that the talk of these lists is
a knee jerk reaction to cases such as the Kathua and Unnao rape cases, both of which involved minor victims, and is intended to satisfy the public rage against sexual abuse by strangers.
"If it is a family member, a person known to the family of the victim, which is true in most cases in India, will this work? I have my doubts. The registry operates most aggressively in the US. However,
there is very little evidence in that country to show that it has helped to prevent sexual assaults against children,"
said Supreme Court advocate K V Dhananjay.
'For 50 years I had that guilt' Newcastle abuse survivor, 66, bravely speaks out
One Survivor's Story - Overcoming
By Katie Collings
A child abuse survivor who lived with his secret for almost 50 years has told how he is finally rebuilding his life.
Rob Pugal, now 66, endured the inner torment until just a few years ago when he finally told his family what he had gone through.
The grandfather-of-two began to receive much-needed counselling and decided he was ready to report the abuse before he was dealt a devastating blow and found out that the perpetrator had died.
Rob Pugal from Newcastle who has been a victim of sexual abuse and is running the London marathon to raise money for the NSPCC (Image: Newcastle Chronicle)
Rob, who was raised in the West End of Newcastle, was sexually abused by a family friend who had groomed him between the ages of 10 and 12.
As a child he knew what had happened to him was wrong but says he felt guilty and unable to tell his parents.
He lived with that shame until he was 60 and his wife and daughter contacted their doctor because he was in "a very dark place".
Rob, who is a retired manager for a food manufacturing factory in County Durham, said:
"I now most certainly do realise how incredibly difficult it can be for a child that's being abused to make that very first move to speak out and tell a trusted adult or to pick up the phone and call Childline.
"Thankfully, I've now dealt with it but it took me until I reached 60 years old for it to happen.
"For 50 years I had that guilt – thinking that it was entirely my own fault. So, it just sat there deep inside of me for the whole of that time and I didn't tell anyone."
Rob Pugal aged 12 (Image: NSPCC)
Rob's parents moved to the North East from India and he said his abuser "manoeuvred his way" into their home.
He said: "Back in the day, having a white British man come to your house and take some interest in your family and kids - it was almost like some form of acceptance.
"He presented himself as a really nice person. He introduced us to a local youth club. This is how he got close to predominantly Asian boys of my age."
One particularly haunting memory Rob lived with was the man taking him on holiday and abusing him during the night.
"I was stuck in an unfamiliar place with a sexual predator, in tears and feeling very guilty. I couldn't tell my parents – what would they say or do to me, I thought. There were all these barriers."
Rob Pugal with his grandson Jake (Image: NSPCC)
Rob, who lives in Whitley Bay, is now spending his free time visiting schools as an NSPCC volunteer, talking to children about how to stay safe from abuse.
He is also set to tackle his first marathon to raise money for the charity.
Rob sadly believes that he was not the only boy targeted by his abuser and regrets that he waited until it was too late to bring him to justice.
But, he adds:
"I've pulled myself out of the other side, and I'm now well down the healing road.
"I know that I want to make the most of every minute that I have left to live.
"If I can help to stop just one child from being potentially abused - then, every minute I spend in local schools with my brilliant fellow NSPCC Schools Service volunteer colleagues is a blessing, I believe.
"I now also have the privilege of being a member of Team NSPCC in the London Marathon, which will be my first full marathon distance run. It also gives me the great opportunity to raise some money to aid the essential safeguarding work of the NSPCC charity.
"My advice to any child who may be feeling sad, unhappy, worried or unsafe is please speak to a trusted adult or ring Childline."
Rob will be running the London Marathon on Sunday, April 22, as part of a 500 strong NSPCC team.
Survivor of child sex abuse urges victims to speak out
as repeat offender jailed for 30+ years
ELLA WILLS
The Evening Standard
A survivor of child sexual abuse has said "I was not to blame, I am not dirty, and it was not my fault", calling for victims to speak out as her abuser Steven Burt was jailed for more than 30 years.
She urged fellow victims of abuse to speak to the police, saying: "I was believed and I was treated with such kindness."
Her statement came as Burt was handed a sentence of 32 years and six months for multiple sexual offences against children, including 14 counts of indecent assault on a boy, and sexual intercourse with a child, committed over a 20-year period.
The 61-year-old, from Greenwich, was also ordered to pay four victims £15,000 each and two other victims £1,000 each at Isleworth Crown Court on Friday.
Burt was convicted of 33 offences on six victims, including boys and girls who were all known to him, at the same court on March 15. At an earlier hearing on February 27 he pleaded guilty to two counts of unlawful intercourse with a child in 1980.
As Burt received his sentence, a female victim said: "When I was abused, it changed my life. I have never been so scared.
"This continued for years... I was scared people would blame me, that this was my fault."
But the survivor said she is "now so happy" after speaking to the police about what happened to her.
She said: "I was not to blame, I am not dirty, and it was not my fault. I am strong and brave and a survivor. Talking to the police for the first time was so hard but strangely therapeutic.
"For the first time my dark secret was no longer secret. All my fears did not happen, I was believed and I was treated with such kindness."
She added: "I am now so happy, I am not living in fear, I am free. I am loving life for the first time since he hurt me."
She called for other victims to speak out, saying "secrecy is what abusers use to continue their despicable behaviour".
The survivor said: "I do not regret speaking out. All I can say is if you have been abused, please speak out, please get support, and please help stop this happening to someone else. Enough is enough."
The children were aged between six and 13 when they were abused by Burt in Feltham and Plumstead.
One of Burt's victims - who was abused from the age of eight into his teens - first contacted police in 2014. He was arrested in November 2014 and subsequently charged on 29 June 2017.
Detective Constable Gemma Major, from the Child Abuse and Sexual Offences (CASO) Command, said: "The victims have lived with these experiences since they were children and these memories have haunted them for their entire lives.
"This has left them with numerous health and mental health issues, which have impacted upon relationships and their day-to-day lives.
"Burt is a prolific offender who, over a significant period of time, abused young children. I am grateful that they have since come forward so that we could take the necessary action to bring him before the courts.
"I would like to take this opportunity to praise their bravery and resolve, and hope that today will further help them move on with their lives, knowing that Burt has been punished for his crimes.
"Given the number of victims and offences that Burt has been convicted of, it cannot be ruled out that there are other victims who have yet to contact police.
"I would urge anyone who has been abused by Steven Burt to come forward and speak to police where you will be supported by specially trained officers."
If you have been a victim of Burt, please contact the Met's Sexual Exploitation Team on 101 - specially trained officers are there to support you. Alternatively call Crimestoppers anonymously on 0800 555 111.
Former teacher jailed after admitting
historic child sex offences
Roy Griffiths, 82, of Sherborne, admitted six indecency offences dating back to the 1960s.
At a hearing at Lincoln Crown Court the former Cathedral School Teacher and Boarding House Master was jailed for six years and seven months.
Lincolnshire Police said the sentencing is the culmination of one part of the Operation Redstone enquiry into abuse at Lincoln Cathedral school in the 1960s. The police investigation began in January 2016 after the safeguarding officer for the Diocese of Lincoln identified a previous concern from a former pupil of the Lincoln Cathedral school about the potential abuse of pupils by staff in the 1960s.
Officers from Operation Redstone spoke with the former pupil and began the complex task of trying to identify and locate pupils from the sixties - which was not straightforward as most of the records from the Cathedral school had been destroyed after it merged with others to form the Lincoln Minster School in 1996. However more than 250 former pupils and their families and staff from Cathedral School were identified by the investigation team and most have been contacted including those now living in Australia, Canada, France, Poland and Spain. Former teacher and house master at the Cathedral School, Roy Griffiths was traced to Dorset and arrested and interviewed in October 2016. He was bailed pending further investigation and then charged in April 2017.
On Friday, April 20, 2018 Griffiths admitted six charges of indecent assault on a male in relation to six boys under the age of 14 between 1963 and 1970. ​
Senior Investigating Officer on Operation Redstone, Detective Superintendent Rick Hatton said that Griffiths had shown no remorse for his actions. "The nature of his offences has been devastating for his victims and their families," said Mr Hatton.
"Today will be one step towards closure for the victims of the 13 offences he admitted to. The effects of the suffering of the victims from Griffiths' abuse will probably never leave them but I hope the conclusion of this case today will assist them in their recovery. I want to pay tribute to the courage of those victims in being prepared to give evidence in court following our initial efforts to trace them," he said.
If there are any other former pupils or family members that would like to speak to the officers on Operation Redstone, then please contact Lincolnshire Police on 101 quoting Incident 59 of 20/04/2018.
Nova Scotia teacher convicted in Switzerland
sexual abuse case had prior Ontario allegations
ANDREW RANKIN THE CHRONICLE HERALD
Man fighting jail sentence for sex abuse got glowing recommendations
Years before Tom Kilgour became a convicted pedophile, he was fresh off an Ontario child sexual abuse trial and back home in New Glasgow, Nova Scotia, Canada.
Kilgour was hired as a substitute teacher by the Chignecto-Central Regional School Board for the 1998-99 school year, and would teach at various schools in Pictou County that year. It would be his third and final teaching stint in Pictou County.
Ontario court records obtained by The Chronicle Herald show that
just days before the school year began, on Aug. 28, 1998, Kilgour's 26-month trial in Newmarket, Ont., on charges of sexual exploitation and sexual assault involving a teenage boy, had ended with an acquittal.
This is a story about a teacher first accused and cleared of sexual assault against children, who was allowed to teach until he was convicted in Switzerland on similar charges nearly two decades later.
In 1999, Kilgour left the Chignecto-Central board and taught at a private boarding school in Switzerland during the early 2000s. There, he was convicted of sexually abusing four teenage boys.
Kilgour is now fighting to overturn the 30-month jail sentence imposed by a Swiss judge last May for engaging in sexual acts with children and sexual coercion.
His appeal hearing is scheduled for Tuesday in Switzerland.
Swiss court records show Kilgour included
three stellar reference letters in his application package for the Swiss teaching position.
In retrospect, one letter seems to contain a subtle warning.
"If any criticism could be levelled, it would be that he was sometimes too close to his charges," wrote Rev. John Rose before ending the letter with a final endorsement: "I do not hesitate to recommend him for a position with your organization."
Rose was one of Kilgour's former bosses, the headmaster at
Albert College, a Belleville
private school where Kilgour had been teaching in 1996 when he was arrested and charged with the sexual offences.
The pair had held the same positions during the late 1980s at another Ontario private school,
Holy Trinity School in Richmond Hill
, where the allegations against Kilgour stemmed from. Rose had left Holy Trinity in 1990, two years before Kilgour's departure when accusations surfaced at the school. A student claimed he was sexually abused by Kilgour. Four years would go by before York Regional Police laid charges. Meanwhile, Kilgour and Rose had reunited again at Albert College.
The Herald could not reach Rose but did speak with Garth Stephenson, a member of the Albert College board of governors while Kilgour taught at the school.
Stephenson also provided Kilgour with a glowing referral letter that he used for the Swiss teaching position.
Stephenson said he and Rose both knew of the charges against Kilgour soon after they were laid. In fact, he says, Rose made the decision to remove Kilgour from Albert College.
"He took the appropriate action at the time that the charges were laid," said Stephenson. "Rose said, 'Tom is not going to continue to be a teacher at Albert College while these charges are open and in the courts.' Kilgour left Albert College and was not in the school after that. I think Rose did the right thing to make sure Kilgour was not a potential threat."
Stephenson says
the court's decision was enough to persuade him of Kilgour's innocence and less than a year later he obliged Kilgour's request for a referral letter.
"I thought he was an excellent teacher and had been well-respected in the school. I didn't say some student in Toronto had accused him of misconduct. My feeling was it was untrue. It was not proven at all.
"He had been declared not guilty but his reputation had been ruined. When he called me looking for a referral letter I asked him would he be going overseas to work and I asked him would he be willing to come back to Belleville and he said absolutely not.
"He went through a pile of money trying to defend himself. The three lines they printed in the local paper didn't do anything to reinstate his career."
David Cloux was one of the four students who was sexually abused by Kilgour at the private Switzerland boarding school,
College Alpin Beau Soleil
, during the early 2000s, according to court records.
He was the student who eventually went to the police with his story of abuse, which ended with convictions against Kilgour last May. Cloux came across the referral letters, which were presented as evidence at Kilgour's sexual abuse trial in Switzerland last year.
Cloux says it's inconceivable to him that Stephenson didn't see the potential danger Kilgour posed to children.
"He knew Kilgour had been charged with abusing a child. Police and the Crown prosecutor saw enough evidence to think they could get a conviction.
"Garth Stephenson was in a position to prevent Kilgour from going on to abuse me and three of my peers at College Alpin Beau Soleil. He instead wrote a gleaming referral for a man who became a convicted pedophile."
John McKiggan, a Halifax personal injury lawyer, says sloppiness and an absence of good judgment are what permitted Kilgour to move from school to school for as long as he did. His career took him to classrooms as far away as England and Saudi Arabia.
"I would argue that anything that allowed this guy to continue teaching puts other children in danger," said McKiggan. "If I was representing the kids in Switzerland I would sue schools that enabled him to keep teaching.
"I've been doing these kinds of cases for 30 years.
I've represented hundreds and hundreds of survivors and only in one case that I've done in almost 30 years was there just a single victim.
What does that tell you?"
New Glasgow native Jeff Fox says he was sexually assaulted by Kilgour inside a Charlottetown motel room 33 years ago, when he was 15. Fox, who's now a junior high school phys-ed teacher living in California, said at the time of the alleged incident he was a member of a boys softball team called The New Glasgow Rangers. He said Kilgour was the coach and the team was on the road playing in a Prince Edward Island tournament during the summer of 1984 when the alleged abuse occurred.
Fox says he was among three boys who had accepted Kilgour's invitation to overnight in his room. Fox says he shared a bed with Kilgour while his teammates slept in the neighbouring bed. The alleged sexual assault happened in the middle of the night, he says.
"I woke up and saw him jerking his arms away from me, pretending he was asleep," said Fox. "I had an erection. I felt his hand on me. That's what I remembered."
Fox says he recalled the incident for the first time 15 years later. Though he was never particularly troubled by the alleged ordeal, he never spoke of it until a few years ago when he opened up to his wife. There's a part of him that regrets not going to the police with his story.
"I guess back then you're expected to be a macho guy and you would never admit to it. That's not what men do."
He suspects part of him didn't want to believe what happened.
"To be honest with you, Kilgour really was a very outgoing, helping, generous good guy, that did help out with a lot of different sports, golf, softball, curling.
"A couple summers ago I was home and ran into him at a convenience store at Melmerby Beach and I didn't know whether to punch him in the mouth or say, 'Hey, how you doing?'"
The Herald spoke to one of Fox's boyhood friends, a teammate with the New Glasgow Rangers. The man, who spoke to the newspaper on the condition of anonymity, says Fox first told him about the alleged incident with Kilgour about 15 years ago. He said he was visiting Fox in California at the time and he can recall that Fox was dealing with a difficult period in his life.
"It was nothing really serious and he overcame it but I remember being in his backyard and him feeling a bit discouraged," the man recalled. "That's when he told me and then asked if it had ever happened to me.
"I said absolutely not. I had heard hints and allegations about Tom but I was always the first to defend him because he was like a big brother to me growing up. He was always kind to me and many others, but I believe Jeff. When I look back and see how close he was with us I can see how it could have happened. It's just tragic."
Fox ended up connecting with Cloux by phone after reading about Kilgour's sexual abuse trial in the Herald.
Since going public with his story, Cloux has received several messages of support from people who were students at the Ontario schools where Kilgour taught. In fact, a group of former Holy Trinity School students have issued a letter to the appeals court in Switzerland, asking that Kilgour's sentence be upheld. The letter, which The Chronicle Herald has obtained, contains the names of 65 former students and their emails.
"All of us can attest to Mr Kilgour's inappropriate and violating behaviour with us as his pupils," states a portion of the letter.
"We believe very strongly that Tom Kilgour is a risk to children and that his offending behaviour at College Alpin Beau Soleil was not an isolated incident, but rather the continuation of an established abusive and predatory behaviour that had already been called out to Canadian authorities by one of our peers, before Mr. Kilgour's employment in Switzerland."
Andrew Anderson, a graduate of Holy Trinity, reached out to Cloux after learning of his sexual abuse trial. Now 43, Anderson completed grades 4 to 12 at the school. Kilgour was his Grade 10 history teacher and rugby coach.
"He had the aura of the cool teacher," recalled Anderson. "He was young, he was handsome. He drove a BMW and everyone was like, 'This guy's the greatest.'"
Anderson says he was never inappropriately touched by Kilgour but was among a group of boys at the school who hung around with Kilgour outside school hours. He says on one occasion he was alone with Kilgour at his basement apartment watching pornography and drinking alcohol provided by Kilgour.
Anderson says he also went on trips with Kilgour, including a Quebec skiing trip and to Montreal to watch the Canadiens play the New York Rangers. During that trip, Anderson remembers Kilgour exposing him to more pornography and alcohol. Looking back, he says, he should never have gotten so close to Kilgour. But at the time, he admits, he admired Kilgour and thought of him as the cool, rebellious teacher. Anderson also says he was friends with the boy who alleged Kilgour sexually abused him.
Anderson says he believed the allegations his friend made against Kilgour and recalled occasions when the three spent time together outside of school. Anderson recalls the then-teenager feeling abandoned by Holy Trinity staff as well as the justice system.
The Herald spoke to another former Holy Trinity School student who says he was taught by Kilgour and was a teammate of Anderson's on the school's rugby team. The man, who asked that his name not be published, says he and Anderson were best friends at the time and he can recall Anderson talking to him about drinking and watching pornography at Kilgour's home, as well as their out-of-town excursions. The man says another schoolmate told him that he had also been at Kilgour's home alone and had been exposed to pornography and alcohol.
"I wasn't in those compromising one-on-one situations, my parents were like hawks and I wasn't allowed to be alone with him," he recalled. "But hindsight is 20-20. We all looked up to him, we revered him, because as boys we thought he was the coolest guy. "He told us about his sexual exploits with women, so we just thought he was hero.
"But looking back, you can't help but think we didn't do enough to stop him, the students, parents and teachers. All of us."
The
Pictou District School Board,
which later became part of the amalgamated Chignecto-Central board, proved to be a place of refuge for Kilgour when his teaching career went off the rails in Ontario. Kilgour began his teaching career with a five-year stint with the Pictou board, starting in 1982 and ending in 1986 when he left for Holy Trinity. Two years after leaving Holy Trinity, facing allegations of sexual abuse, he was rehired as a substitute teacher with Pictou board for the 1994-95 school year, and then by the Chignecto-Central board for the 1998-99 school year.
Jo-Anne Jarvis-Jordan, a spokeswoman with the Chignecto-Central board, could not say whether Kilgour had been subject to background checks before his substituting stints. She said the board never received complaints about Kilgour's teaching performance.
It was only in 2000 that school boards across the province introduced a policy requiring every newly hired teacher to be subject to both criminal records and vulnerable sector checks. There's no way of knowing if Kilgour would have been red-flagged had those checks been done. A vulnerable sector check doesn't always pick up non-convictions, such as Kilgour's acquittals.
But it appears Kilgour's tenure in Pictou County schools impressed at least one school administrator. Peter White was vice-principal of New Glasgow High School during Kilgour's final teaching stint with the Chignecto-Central board. White also wrote Kilgour a referral letter included in his job application for the teaching position in Switzerland. The Herald spoke to White, who is now retired, but he was unable to recall writing the letter or any details about his professional relationship with Kilgour. White says he had no knowledge of Kilgour's record of sexual abuse charges.
"I think it goes without saying that if I were aware of that, you wouldn't have the person in the school," said White. "There was nothing to indicate to me that he was somebody not to be in front of kids.
"But I don't know anything about Mr Kilgour. I wrote lots of reference letters over my lifetime. I am not denying that I did, but I don't recall the circumstances of me working with him. I knew his name in the county growing up, but I never knew him personally."
He said Kilgour had the right to earn a living after his acquittal, but White also now believes Kilgour should not have been hired by the board.
But since he was hired, he should have, at least, been monitored closely to ensure he wasn't putting himself in compromising positions, which he appeared to do frequently.
"It's upsetting. We become teachers and educators to ensure kids are healthy and learning. It's not shocking that those red flags might not be seen, but it's a shame if he was harmful to children in the first place or harmed any children. That should have never happened."
The Herald has made several unsuccessful attempts to reach Kilgour, including through his lawyer, but he has not responded.
As for Cloux, he has reached out to his former school, as well as Albert College, Holy Trinity and the Chignecto-Central board hoping each would accept some measure of responsibility for the tragedy that played out at his former school. He's still waiting.
"While there is an understandable reluctance to accept the facts, the more that it is shared and discussed, the sooner things will change," said Cloux.
"Once we know the facts, we have a responsibility to act in order to limit the exposure of children to predators like Tom Kilgour."